Also called tsukkaibashira 突支柱, hikaetori 控取, sasaebashira also read *shichuu 支柱, and osaebashira 押柱, and very rarely tasukebashira 助柱.

1 The secondary pillars or posts placed in front and/ or behind the main pillars of gates to shore them up and stabilize them. The hikaebashira of four-legged gates *shikyakumon 四脚門, are attached to the main pillars by penetrating horizontal members. The upper member is called *sarugashira 猿頭. The base members are called hikaenuki 控貫, ashimotonuki 足元貫 or sometimes simply *nuki 貫. Such secondary pillars are also used to shore up wooden framed walls or fences, and are generally placed diagonally. The posts themselves may be positioned vertically parallel to the main pillars, but the upper tie *hinuki 飛貫, is placed on the diagonal. All of the ties are secured by wedges *kusabi 楔, on both sides of the posts.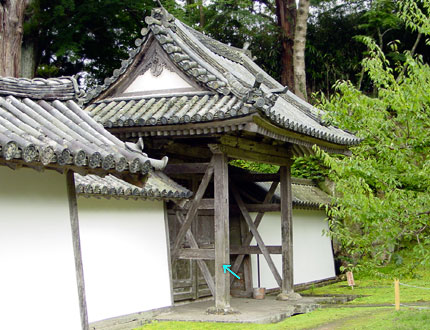 Zuiganji Onarimon 瑞巌寺御成門 (Miyagi)


2 When several posts made of unstripped cypress, cedar, chestnut or oak logs are used to support purlins visible beneath deep, overhanging eaves, they are called sasaebashira 支柱. When the eaves are deep and resemble pent roofs, they are called *tsuchibisashi 土廂 or debisashi 出廂. Log posts set bottom end down on round natural stone bases placed on the ground beyond the edge of the veranda are called sutebashira 捨柱, and are commonly used in *sukiya-zukuri 数寄屋造 or tea architecture *chashitsu 茶室. An archaic word for sutebashira is sukebashira 楮柱. Examples: Sougenji Shikyakumon 宗源寺四脚門 (1237), Nara.