@
Gekkamon@ŒŽ‰Ψ–ε




KEY WORD :@architecture / gates

@
Also written ŒŽ‰Ί–ε.

1@A gate in the corridor connecting the two halls Kyoushoden Z'"a and Anpukuden ˆΐ•Ÿ"a in the Imperial Palace at Heiankyou •½ˆΐ‹ž.

2@A gate following the same tradition as in one above, located in the west side of the roofed semi-enclosed corridor that surrounds the Shishinden Ž‡›'"a of the emperor's palace of Kyoto Gosho ‹ž"sŒδŠ. It has a tiled, gabled roof and is painted with red lead pigment. It faces a matching gate called *Nikkamon "ϊ‰Ψ–ε on the east side. The same format was used for Imperial Palace gates in the medieval and early-modern periods. Both the Gekkamon and Nikkamon open inwards towards the palace buildings.

3@A courtyard gate@at the temple of Tofukuji "Œ•ŸŽ›, Kyoto. Said to have been donated by Emperor Kameyama ‹TŽR (1259-74), this is a four-pillar gate *shikyakumon Žl‹r–ε with a gabled cypress-bark roof.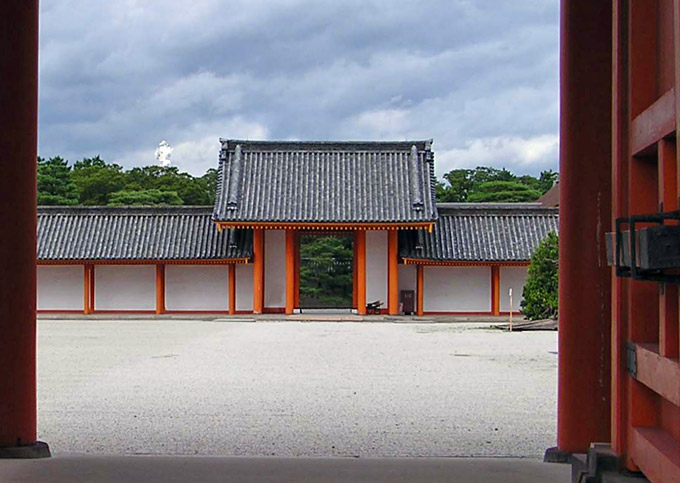 2)@Kyoto Gosho Gekkamon ‹ž"sŒδŠŒŽ‰Ψ–ε (Kyoto)
@

@


REFERENCES:
*Dairimon "ΰ— –ε, *Kenreimon Œš—η–ε



EXTERNAL LINKS:
@@



NOTES:
@




(C)2001 Japanese Architecture and Art Net Users System.@No reproduction or republication without written permission.
ŒfΪ'ΜƒeƒLƒXƒgEŽΚ^EƒCƒ‰ƒXƒg'ȂǁA'S'Δ'ΜƒRƒ"ƒeƒ"ƒc'Μ–³'f•'»E"]Ϊ'π‹Φ'Ά'ά'·B
@