Asia Future Conference in SGRA
Invitation to the 6th Asia Future Conference Pre-Conference "International Relations in the Post-COVID Era –Asia Viewed from Taiwan's Perspective"
Due to the COVID-19 pandemic, the 6th Asia Future Conference (AFC#6) has been postponed to August 2022. We are pleased to announce, however, that we will host an online preconference this year instead, and all are welcome to join.
Date: August 26th, 2021 (Thursday) ※Taiwan Time
10:00~11:00   Opening Ceremony, Keynote Speech
11:00~12:00   Symposium
13:00~16:20   Presentations of AFC Best Papers, Presentations of Taiwan Best Papers
16:20~16:30   Closing Ceremony
Venue: Online via Zoom Webinar
Languages: Chinese and English. (Chinese-English, Chinese-Japanese simultaneous interpretation via Zoom Webinar)
◇To participate in the Keynote Speech (Part 1) and Symposium (Part 2)
please register for the Zoom Webinar from the following link:
Registration for the Zoom Webinar [Part 1]&[Part 2] 
No registration required for the Best Paper presentation sessions in the afternoon.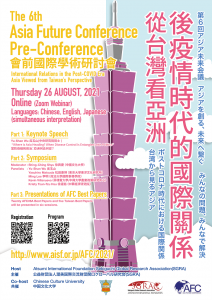 ◇Program
[Opening Ceremony] 10:00~10:10
Opening Remarks: Mr. Yasushi Akashi, Asia Future Conference Chair
MC:Moyo Lin, Taiwan Organizing Committee Chair for the 6th Asia Future Conference
[Part 1:Keynote Speech] 10:10~11:00
"Where is Asia Heading? When Disease Control is Entangled with Politics"
Yu-Shan Wu, Academician, Academia Sinica
Abstract:
COVID-19 has caused the most severe pandemic and infectious disease that the world has encountered since the Spanish flu in the early twentieth century. Given that "no one is safe until everyone is safe," being able to control the pandemic would best serve the interests of all nations. 
In theory, the pandemic should have promoted international cooperation and coordination. However, since the global outbreak of the pandemic in early 2020, what we have in fact witnessed is a series of ongoing international conflicts such as mutual recriminations over the origins of COVID-19, vaccine nationalism, vaccine diplomacy, and so on. International cooperation is being suppressed by conflicts, and this is closely related to the New Cold War which has existed in the current international order since before the outbreak of COVID-19. This New Cold War is rooted in the international power transition of the most powerful countries and the rise of right-wing populism caused by the economic crisis. It is deeply entrenched, and even a shared crisis such as COVID-19 is not enough to resolve these differences and brings about cooperation, instead, leading to a whirlpool of conflicts. Under such circumstances, it is pertinent and necessary to ask where Asia is heading.
[Part 2: Symposium] 11:00~12:00
"International Relations in the Post-COVID Era –Asia Viewed from Taiwan's Perspective"
Moderator:
Dr. Shing-Ching Shyu, President, Chinese Culture University
Panelists:
Yasuhiro Matsuda, (Japan) Professor, Institute for Advanced Studies on Asia, the University of Tokyo
Ming Lee, Professor at the Department of Diplomacy in National Cheng-Chi University
Kevin Villanueva, (Philippines) Assistant Professor, University of The Philippines/Senior Fellow, National Chung-Hsing University
Hsu, Kristy Tsun Tzu, Associate Research Fellow and Director, The Taiwan ASEAN Studies Center
Yu-Shan Wu, Academician, Academia Sinica.
[Part 3: AFC Best Papers and Taiwan Best Papers Presentation] 13:00~16: 20
13:00~13:10        Best Paper Award Presentation Ceremony
13:10~16:20        Parallel Sessions of Best Paper presentations
List of 5 Taiwan Special Best Papers
[Closing Ceremony] 16:20~16:30
Closing Remarks:Junko Imanishi, Asia Future Conference Organizing Committee Chair
Invitation to the Asia Future Conference to be held at Taipei in August 2022
※No registration required for the Best Paper presentation sessions in the afternoon.
Please join from the following link after 12:30pm on Thursday, August 26, 2021.
Link to Best Presentation Sessions [Part 3]
For more program details, please check:
Inquiries: AFC Secretariat afc@aisf.or.jp
Please contact the above email address for technical support as well.
We look forward to "meeting" you at the online preconference.
The 6th Asia Future Conference Organizing Committee