@
tomoegawara@"bŠ¢




KEY WORD :@architecture / roofing tiles

@
Also nokitomoe Œ¬"b; *nokidomoegawara Œ¬"bŠ¢. A very old expression for tomoegawara was *tsutsumigawara •ï'ÝŠ¢. A half-cylindrical tile with a circular disk attached *nokimarugawara Œ¬ŠÛŠ¢. The name of this tile is derived from the disk, which is decorated with a comma pattern *tomoemon "b•¶. Tomoegawara are used at the eave edge and also along the eaves that overhang the bargeboard *hafu "j•— of a hip-and-gable roof or gable roof *irimoya-zukuri "ü•ê‰®'¢. When placed in the latter position they the are called kakedomoegawara Š|"bŠ¢.
@
@@
@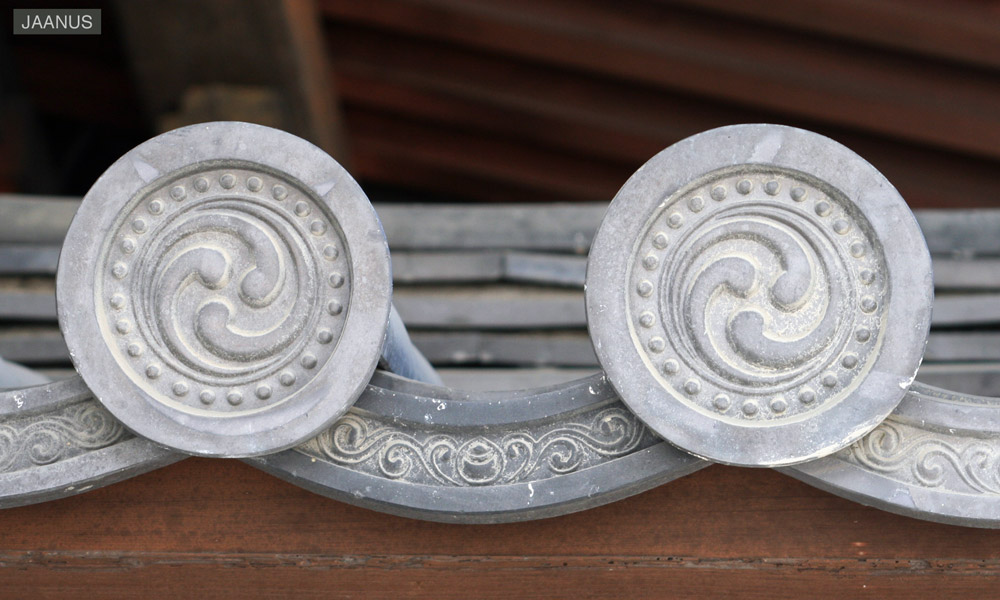 tomoegawara "bŠ¢ (hidari mitsudomoe ¶ŽO'"b)
Houryuuji Nandaimon –@—²Ž›"ì'å–å (Nara)

@


REFERENCES:
*kodomoe ¬"b.



EXTERNAL LINKS:
@@



NOTES:
@




(C)2001 Japanese Architecture and Art Net Users System.@No reproduction or republication without written permission.
ŒfÚ'̃eƒLƒXƒgEŽÊ^EƒCƒ‰ƒXƒg'ȂǁA'S'ẴRƒ"ƒeƒ"ƒc'Ì–³'f•¡»E"]Ú'ð‹Ö'¶'Ü'·B
@