@
jikuzuri@Ž²'έ




KEY WORD :@architecture / general terms

@
Also written Ž²'ή, Ž² . Pivot hinge. A metal covered wooden-core pivot inserted into a socket *jikuana Ž²ŒŠ to form a revolving hinge. It often has an extension at each end, on the top and bottom of the door. This projecting part forms the pivot. Jikuzuri is especially common on wooden plank doors *itakarado "Β"'ŒΛ and panelled wooden doors *sangarado ŽV"'ŒΛ.

@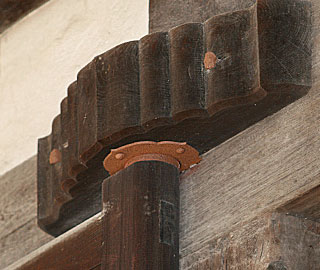 @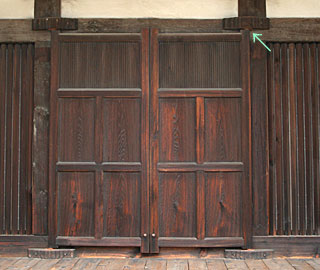 Gangouji Gokurakubou Zenshitsu Œ³‹»Ž›‹ΙŠy–['TŽΊ (Nara)

@


REFERENCES:
*waraza ˜mΐ, *tsubokanamono 'Ω‹ΰ•¨.



EXTERNAL LINKS:
@@



NOTES:
@




(C)2001 Japanese Architecture and Art Net Users System.@No reproduction or republication without written permission.
ŒfΪ'ΜƒeƒLƒXƒgEŽΚ^EƒCƒ‰ƒXƒg'ȂǁA'S'Δ'ΜƒRƒ"ƒeƒ"ƒc'Μ–³'f•'»E"]Ϊ'π‹Φ'Ά'ά'·B
@