1@A dovetail joint with the dovetail tenon cut at the butt end about half the depth of one beam. It then is dropped into a mortise of the same shape, cut on the long side of another beam and joined at a right angle.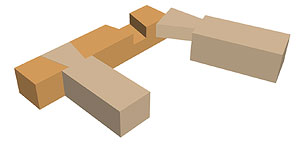 2@A variation closely resembling the housed dovetail joint *ariotoshi ‹a—Ž, except that the arikake contains a bench cut on the mortised beam and a lap cut on the lower half of the tenoned beam. This is a stronger joint because the recessed part is cut from only half the side face. When the two beams are joined, the lap on the tenoned beam rests on the bench of the mortised beam. It is a half-lapped, half-blind, dovetail, right-angle joint with a rectangular pin *koshikake aritsugi ˜Š|‹aŒp. Used in ground sills *dodai "y'ä, where it must support a vertical member, for example, in floor joists joined to pillars or posts and in joining purlin ends to corner rafters.



3@Kabutoarikake Š•‹aŠ| or kyouro arikake ‹ž˜C‹aŠ| is another variant of arikake but very similar to the koshikake aritsugi type. It is a housed, dadoed, half-lapped, half-blind dovetail joint used to join a purlin and a transverse beam to the top of a pillar.