@
yokozando@‰'ŽVŒΛ




KEY WORD :@architecture / general terms

@
A timber door frame into which horizontal boards are set. The seams tsugime Œp–Ϊ, are hidden by crosspieces nailed in place. On elaborate doors made of heavy planks with stout crosspieces, nail heads are covered with metal bosses *kugikakushi "B‰B.
@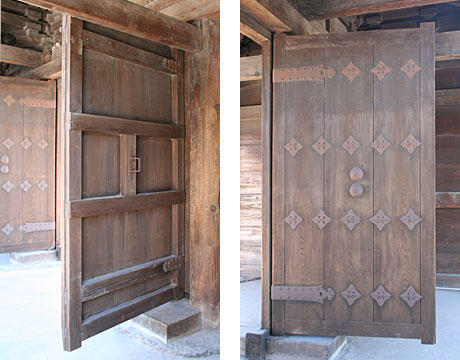 Owari Ookunitama Jinja Roumon "φ'£'卑—μ_ŽΠ˜O–ε (Aichi)

@


REFERENCES:
*mairado •'—ΗŒΛ, *sando ŽVŒΛ.



EXTERNAL LINKS:
@@



NOTES:
@




(C)2001 Japanese Architecture and Art Net Users System.@No reproduction or republication without written permission.
ŒfΪ'ΜƒeƒLƒXƒgEŽΚ^EƒCƒ‰ƒXƒg'ȂǁA'S'Δ'ΜƒRƒ"ƒeƒ"ƒc'Μ–³'f•'»E"]Ϊ'π‹Φ'Ά'ά'·B
@