kururu 枢




KEY WORD : architecture / general terms

Also read *toboso 枢; kuro or kuroro.

1 A pivot hinge composed of rotund extensions on the top and bottom corners of a door leaf on the side adjacent to the pillar or wall to which the door will be attached. The cavities tomara 戸牡 that receive the hinges are bored out of the lintel *magusa まぐさ and the door sill *shikii 敷居 or *dodai 土台. In general, this type of hinged door is called kururudo 枢戸.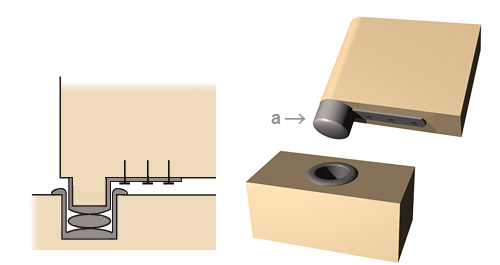 a)

*

shakukanamono

杓金物



2 The term also refers to the wooden slip-bolts or cat bars *saru 猿 that are used to lock sliding doors or gates.


REFERENCES:
*hishaku kamanomo 柄杓金物 



EXTERNAL LINKS:



NOTES:




(C)2001 Japanese Architecture and Art Net Users System. No reproduction or republication without written permission.
掲載のテキスト・写真・イラストなど、全てのコンテンツの無断複製・転載を禁じます。