1@A generic term for a small door, very often a wicket door set into the leaf of another larger door or gate or into an adjacent wall. Sometimes it is a swinging door *tobira "à or sometimes a single sliding door *katabikido •ÐˆøŒË. It is found in gates *mon –å, gatehouses nagayamon '·‰®–å, the main entrance doors *oodo 'åŒË of vernacular houses *minka –¯‰Æ and rain shutters *amado ‰JŒË. The kugurido was used when the main doors were shut for the sake of security. Kugurido were small to prevent more than one person passing through at a time, and because they had a high threshold and low lintel, one could not enter without bending. Often abbreviated to kuguri ö'è.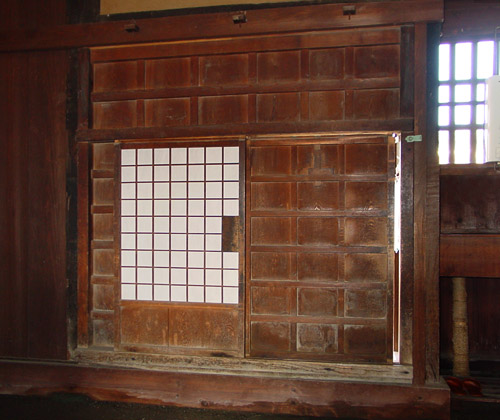 *

oodo

'åŒËFOld Andou ˆÀ"¡ house (Yamanashi)



2@In the gardens of teahouses *chashitsu 'ƒŽº, a small sliding or swing door with a high threshold, sometimes provided in the middle gateway *nakakuguri '†ö, dividing the inner and outer gardens. Also called kirido ØŒË.

3@An alternative term for a tearoom entrance *kuguriguchi öŒû.

4@The main door of the house which opened into the earthfloored area *doma "yŠÔ in farmhouses nouka "_‰Æ in parts of Akita, Hyougo and Saga prefectures.