Lit. snake's belly.

1@A cornice. Called nokijabara Œ¬ŽΦ• , at the eaves of a building and doujabara "·ŽΦ• , near the center. Jabara is said to be derived from the custom of attaching broad concave roof tiles *hiragawara •½Š', on a slant under the eaves of a mud and plaster fence.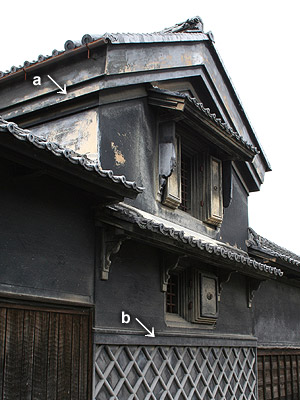 @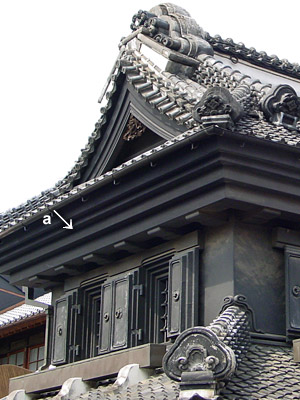 a) nokijabara Œ¬ŽΦ• @@b) doujabara "·ŽΦ• 
leftFMutou •"' house (Gifu)@@rightFHara Œ΄ house (Saitama)


2@The top section of a fence *chasengaki 'ƒβ€Š_, used in the garden of a tea ceremony house, chashitsu roji 'ƒŽΊ˜I'n. The fence is made of Japanese bush clover tied in bundles, set vertically, and attached with twine to round bamboo stakes. The tops of the bundles are made to fan out like the whisk *chasen 'ƒβ€ used to beat powdered green tea for tea ceremony. These whisk like tops, known as jabara, extend outward on the ends of fences to form a cornice-like shape.