@
ensaki chouzubachi@‰æŽè…"«




KEY WORD :@architecture / gardens

@
Lit. end of the verandah water basin. A type of tall, cylindrical wash basin *chouzubachi Žè…"« used in *shoin '‰@ style gardens and thus also called shoinshiki chouzubachi '‰@Ž®Žè…"«. The endaki chouzubachi together with its attendant stones is called *hachimae-no-ishigumi "«'O'̐Αg. Its tall size, usually just over one meter, allows it to be used from the verandah rather than from the garden. Often it is placed along the veranda between the shoin room and the toilet, from which it is shielded by a screen fence *sodegaki '³Š_. When used in large, palatial shoin the ensaki chouzubachi is located a meter away from the veranda, about two meters high, and holds no water. In these cases it is called@*kazarihachimae ü"«'O or decorative hachimae and a wooden lid or roof may be employed to keep out rain water and other materials. Ensaki chouzubachi seem to have developed into the hachimae in the 17c, and both hachimae and kazarihachimae forms were fixed in the 18c Akizato Ritou's H—¢âߓ‡ TSUKIYAMA TEIZOUDEN KOUHEN 'zŽR'ë'¢"`Œã•Ò (see *TSUKIYAMA TEIZOUDEN 'zŽR'ë'¢"`) distinguishes many types of ensaki chouzubachi.
@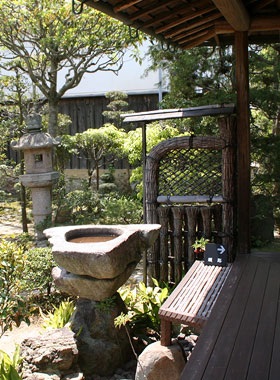 Nagatomi ‰i•x house (Hyougo)

@


REFERENCES:
@



EXTERNAL LINKS:
@@



NOTES:
@




(C)2001 Japanese Architecture and Art Net Users System.@No reproduction or republication without written permission.
ŒfÚ'̃eƒLƒXƒgEŽÊ^EƒCƒ‰ƒXƒg'ȂǁA'S'ẴRƒ"ƒeƒ"ƒc'Ì–³'f•¡»E"]Ú'ð‹Ö'¶'Ü'·B
@